SYT T16 Precision Automatic Tapping Machine
SYT T16 | Vertical | M5-M16
Take S45C workpieces as en example, the SYT T16 tapping machine is design for making M5-M16 thread. Max support M6*9 / M8*4 / M12*2 Multi-Spindle Tapping.
Technical Data
Dimensions
Products Featrue
Accessries
Application Gallery
| | |
| --- | --- |
| Project | Parameters |
| Model | Syt T16 automatic electric vertical tapping machine |
| Spindle Travel | 65mm |
| Thread Diameter | 5mm-16mm for S45C (M5~M16) |
| Head Moving Scope Up and Down | 300mm |
| Distance from Spindle Nose to Working Table | 470mm |
| Working Table Size | 340*340mm |
| Base Size | 580*425mm |
| Motor Power | 6P 750W |
| Spindle Rotation | 50HZ:505,285,155 60HZ:620,340,190 |
| Suitabel Feed Pitch | 0.7,0.8,0.9,1.0,1.25,1.5,1.75,1.8,2.0,2.5 |
| Thread per Inch | 28,24,20,19,18,16,14,12,11,10 |
| Max Capacity of Multi-Axis Tapping(It may changeaccording to the tapping depth and material quality) | 6mm*9(axis),8mm*4,12mm*2 |
| Body size | 825*425*1040mm |
| Weight | 200KG |
| Warranty | a year free warranty,lifetime maintenance |
| what's in box | Machine * 1, Tool box * 1, Gear * 2 (one machine inside, another one in tool box ) CT-12 Hex Nut or 3/8" drill *1, |
Benefits of model
◆ Operation simple(support pedal-operated), Process stability, workpiece will not jump while processing and no need fixed by hand.
◆ automatic reversal device, free to adjust the precision tapping travel
◆ Special double safety clutch, effectively prevent the taps breakage
◆ high-precision, vertical stabilizer, operate freely, it can be made very small and ultra-fine thread a perfect tooth pattern and other general tapping machine can not be achieved
◆ button switch and special motor are passed rigorous testing and durable
◆ operation with a timer function, can do for a long time and one-way high-speed continuous loop cycle
◆ automated operation, is the best choice for beginners and unmanned aircraft
◆ can be installed on demand multi-axis tapping devices, improve productivity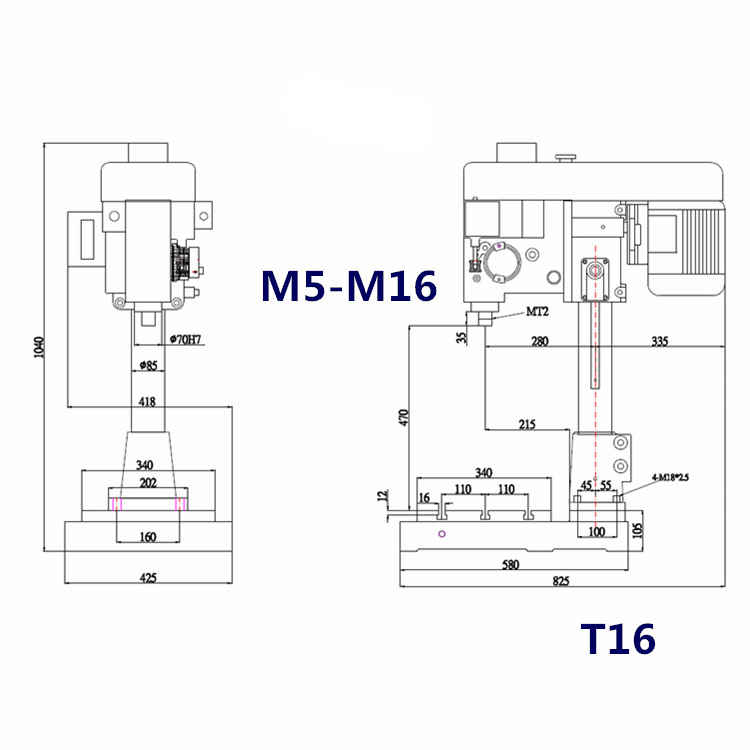 Swiveling - Pitch combination of sophisticated automatic shuttle:
Alternative means of A, B gear with A, B and the spindle axis by advancing from the teeth fully compatible (there is no such conventional means)
1, vertical stabilizer, precise and stable:
Very high precision, screw tap forward and backward in time will be able to operate freely without having to contribute, and excellent processing system produced goods, will not cause the thickness of different threads. Press for sheet metal processing products or light alloys, synthetic resins and other soft products, but also can be made perfect threads. No or poor quality unstable phenomenon.
2, when tapping Machining items do not jump up:
Driven by the spindle rotation transmission, and does not have to hand pressing the workpiece while the workpiece does not jump up.
3, easy to operate, promote work efficiency:
The operator's hands free to leave the equipment:
Way loop Forward → Forward → → reverse the continuous circulation and reverse ...... Forward → reversal → stop there is a specific button switch is operated, in addition to the foot switch can be installed, for selective operation, continuous cycle, one-way loop can be automatically hands of the operator can safely leave the machine.
4,Do long high-speed continuous cycle operation, durable:
SYT tapping machine continuous cycle operation forty chapters per minute, high-speed continuous operation, durable, especially the use of the company made a special electronic key switch and turn the motor can be durable ten million times.
5,Interns can also smooth operation
Single-action serials are automatic cycle operation; the operator's hands can be completely out of the machine, as long as the supply of processed goods, the same operating efficiency of beginners and Skilled.
6,High precision stamping stroke adjustment is simple:
Automatic reverse device can freely adjust the tapping stroke, shallow hole and bottom hole machining thereof, can be easily adjusted.
7,Double safety device to prevent breakage of the screws for the attack:
Spindle rotation and up and down, back and forth with a knife *, ad hoc safety clutch double spindle can automatically stop and reverse the return loss is not * a knife.
8,Multi-axis tapping the device produces a high-efficiency operation:
Tapping can be installed multi-axis, high production efficiency.
Accessories:
※Standard accessories:
Tool box * 1, Gear * 2 (one machine inside, another one in tool box) CT-12 Hex Nut or 3/8" drill *1
※Option accessories:
Multi Spindle Tapping Head
Cooling Table